GOtv Decoder Price in Nigeria 2023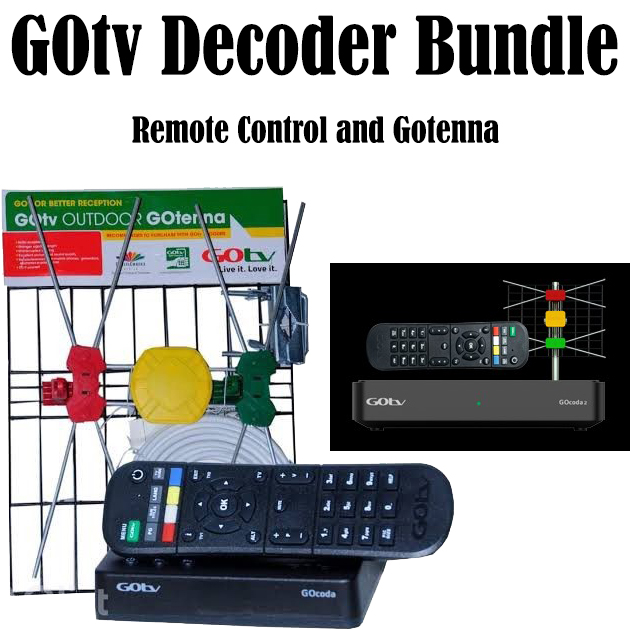 In this article, I will be talking about GOtv decoder price in Nigeria and what comes in with it out of the box. The amount changes from time to time but do not worry as this article will be updated anytime that happens.
To enjoy GOtv services here in Nigeria, you first need to get a decoder and antenna which is often referred to as GOtenna. You can then proceed to point the antenna in the right direction and finish the setup with installation.
Understanding GOtv Decoder
Before we get into the pricing details, let's first understand the GOtv decoder and why it's become so popular. The GOtv decoder is a digital terrestrial television decoder that allows users to access a variety of digital TV channels without the need for a satellite dish. It provides a diverse viewing experience for its users by providing a variety of entertainment, news, sports, and educational channels.
Features of the GOtv Decoder
The GOtv decoder comes with several features that improve the overall television viewing experience. High-definition (HD) picture quality, an electronic program guide (EPG) for easy channel navigation, parental control functionality, and the ability to pause, rewind, and record live TV shows are among the features. Furthermore, the decoder is small and easy to use, making it suitable for all types of households.
See Also: DStv Premium Price in Nigeria 2023 (With Extra View)
Benefits of using the GOtv Decoder
Nigerian TV fans can get a lot of benefits from using the GOtv decoder. Firstly, it gives you access to a wide range of local and international channels, so you can watch a variety of content that fits your tastes. Secondly, the decoder doesn't need a satellite dish, making installation easier and cheaper. Also, both the GOtv decoder and the subscription packages are cheap, which makes them a good choice for people who want to save money.
GOtv Decoder Price in Nigeria
The price of GOtv decoder in Nigeria is NGN 9,500 Naira and it comes with a one month Max subscription. Installation costs about N1,000 Naira – N2,000 Naira making the final amount almost N12,000 Naira. However, unlike DStv, installation, and set-up of GOtv is relatively easy and it is something that you can do yourself.
Inside the box that the decoder (GOcoda) comes in with, you also have the GOtenna (antenna), cable (that will connect the antenna to the decoder), and remote control.
Where to Buy GOtv Decoders in Nigeria
There are several reliable options available if you want to buy a GOtv decoder in Nigeria. Authorized dealers and retailers across the country stock GOtv decoders and accessories, allowing potential buyers easy access. It is best to purchase genuine products from authorized retailers and receive after-sales support.
In addition to physical stores, numerous online platforms allow you to buy GOtv decoders from the comfort of your own home. Popular e-commerce websites and official GOtv websites provide trustworthy online purchasing options, often with door-to-door delivery.
How to Install and Activate GOtv Decoder
Once you've acquired your GOtv decoder, the installation and activation processes are straightforward. Here's a step-by-step guide to help you get started:
Unbox the GOtv decoder and ensure that all necessary components are present.
Connect the decoder to your TV using the HDMI or AV cables provided.
Connect the GOtv decoder to a power source.
Position the antenna appropriately, ensuring proper signal reception.
Power on the decoder and your TV.
Follow the on-screen prompts to complete the installation process.
Once the installation is complete, activate your GOtv decoder by purchasing a subscription plan.
Follow the activation instructions provided by GOtv, typically involving SMS or online registration.
By following these steps, you'll be able to set up and activate your GOtv decoder, allowing you to enjoy a wide range of digital TV channels.
See Also: DStv Compact Plus Price in Nigeria 2023 (With Extra View)
Frequently Asked Questions (FAQs)
FAQ 1: Can I use my existing antenna with the GOtv decoder?
Yes, your existing antenna can be used with the GOtv decoder. However, for the best viewing experience, make sure your antenna is compatible with the decoder and can receive a strong signal.
FAQ 2: Is the GOtv decoder compatible with all TV models?
The GOtv decoder is compatible with the majority of modern television models. It is compatible with a wide range of television sets because it supports both standard definition (SD) and high definition (HD) TVs.
FAQ 3: Can I subscribe to different GOtv packages with the same decoder?
Yes, you can use the same decoder to subscribe to more than one GOtv package. GOtv has different subscription plans for people with different tastes and budgets. You can choose and change packages based on what you want to watch.
FAQ 4: What is the warranty period for the GOtv decoder?
The GOtv decoder's warranty period may vary. At the time of purchase, it is recommended to review the warranty terms and conditions provided by the manufacturer or authorized dealers.
FAQ 5: How can I contact GOtv customer support?
GOtv customer service can be reached via their dedicated helpline or by visiting their official website. They offer assistance and support for any questions or problems with the GOtv decoder or subscription services.
Conclusion
The GOtv decoder provides a low-cost and convenient way to watch a variety of digital TV channels in Nigeria. In this article, we looked at the price of a GOtv decoder in Nigeria in 2023, as well as its features, benefits, installation process, and where to buy it. You can easily set up your GOtv decoder and enjoy a diverse selection of entertainment, news, sports, and educational channels right at your fingertips by following the provided instructions.