DStv Compact Plus Price in Nigeria 2023 (With Extra View)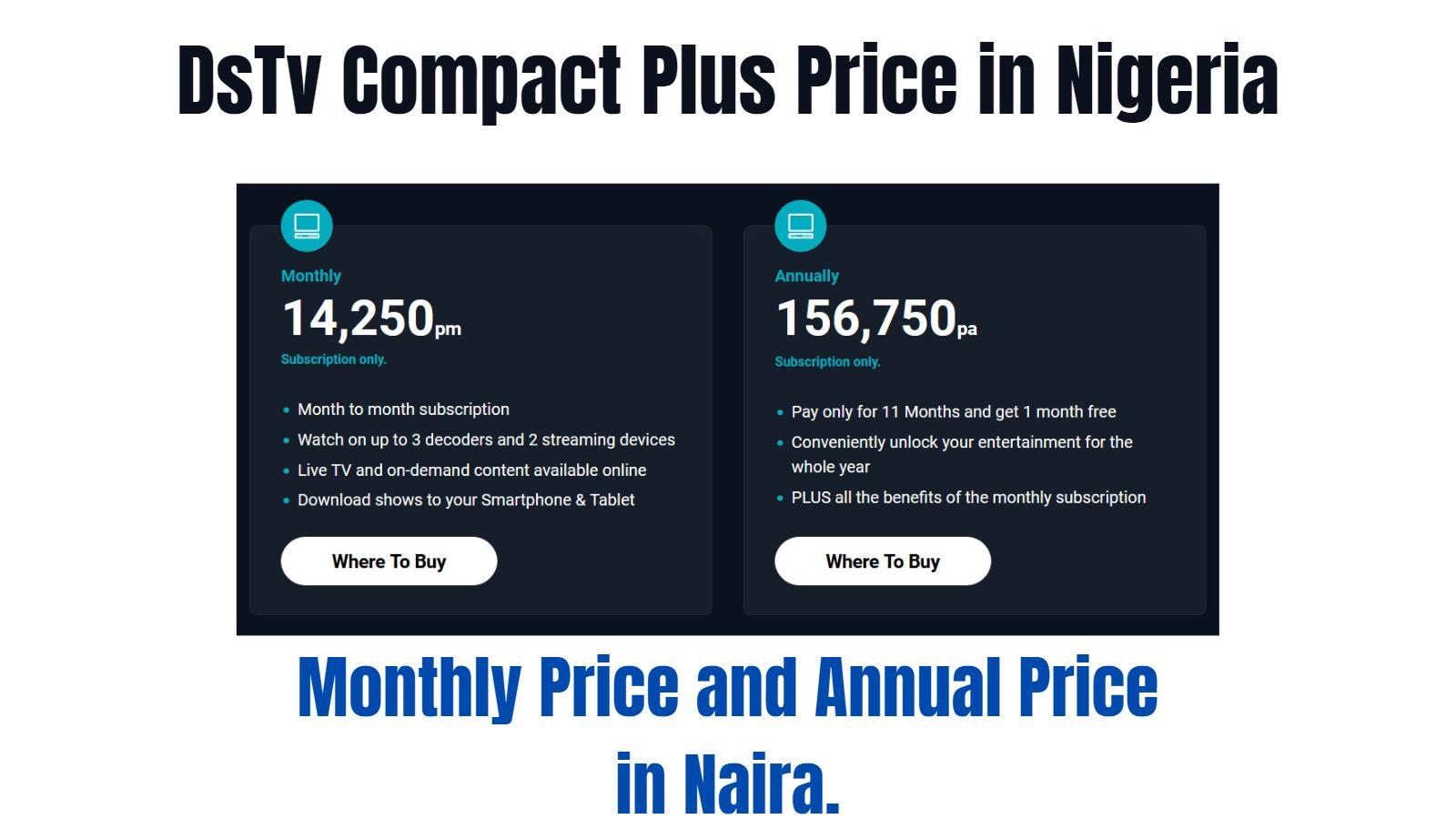 Understanding DStv Compact Plus
DStv Compact Plus is a comprehensive package designed to meet viewers' diverse entertainment needs. It offers a diverse selection of channels, including sports, movies, documentaries, lifestyle, news, and more. Subscribers to DStv Compact Plus can enjoy an immersive television viewing experience that combines variety and quality.
Features and Benefits of DStv Compact Plus
Extensive Channel Selection: DStv Compact Plus has a large channel selection, ensuring that there is something for everyone. The package caters to a wide range of interests, including popular local and international sports channels, blockbuster movie networks, educational and lifestyle channels, and news and current affairs.
High-Definition (HD) Viewing Experience: DStv Compact Plus brings the joy of high-definition entertainment into your living room. Subscribers can enjoy crisp and detailed visuals, enhanced colors, and improved audio quality with HD channels, resulting in a truly immersive TV experience.
Extra View Channels: One of the most notable features of DStv Compact Plus is the ability to add Extra View functionality. This enables subscribers to link multiple decoders, allowing them to watch different channels on different TVs in the same household at the same time. It adds convenience and flexibility for families with varying viewing tastes.
Catch-Up and On-Demand Content: DStv Compact Plus includes access to catch-up and on-demand content, ensuring that you never miss your favorite shows or movies. DStv has you covered if you want to catch up on a missed episode or explore a library of on-demand content.
Interactive and User-Friendly Interface: The DStv Compact Plus has an intuitive and user-friendly interface that makes it simple to navigate through channels, menus, and features. The interactive TV guide and simple remote control improve the viewing experience.
DStv Compact Plus Price in Nigeria
DStv compact plus monthly subscription in Nigeria at the moment is NGN16,600 Naira and NGN 182,600 per year. This package gives you access to watch over 160 video channels which include but are not limited to Sports, Movies, Tv Shows, Music, documentaries, and more.
I have recently published an article on the list of DStv compact plus full channels in Nigeria and it will be updated if and when there are any changes.
How Much is DsTv Compact Plus Package Plus Extra View?
The price of DsTv compact plus with extra view in Nigeria is NGN19,500.
Compact Plus Package = NGN 16,600 Naira
Extra View = NGN 2900 Naira
DStv Compact Plus + Extra View = NGN 19,500 Naira.
Related: Price of DsTv Compact Package in Nigeria
How to Subscribe to DStv Compact Plus
Online Subscription: You can subscribe to DStv Compact Plus easily by visiting the official DStv website. Potential subscribers can select the Compact Plus package, provide their personal information, and securely complete the subscription process by visiting their online portal.
Subscription through the DStv App: The DStv App provides an easy-to-use platform for managing subscriptions and accessing various DStv services. Users can easily subscribe to DStv Compact Plus, modify their subscription, and explore additional features via the app.
Physical Subscription at Authorized Outlets: DStv offers the option of subscribing to Compact Plus at their authorized outlets for those who prefer face-to-face interactions. These locations are staffed with knowledgeable personnel who can help with the subscription process and answer any related questions.
Frequently Asked Questions (FAQs)
Q1: What channels are included in DStv Compact Plus?
DStv Compact Plus includes channels like SuperSport, M-Net Movies, BBC Lifestyle, CNN, Cartoon Network, and many more. You can find the full list of channels available in DStv Compact Plus here
Q2: Can I watch DStv Compact Plus on multiple devices?
Yes, you can use the DStv Now app to watch DStv Compact Plus on more than one device. This means that subscribers can watch their favorite shows and movies on their phones, tablets, and computers.
Q3: Are there any hidden fees associated with DStv Compact Plus?
No, there are no hidden fees for DStv Compact Plus. All of the channels and features that come with the package are included in the monthly fee.
Q4: Can I upgrade or downgrade my DStv package?
Yes, DStv subscribers can always upgrade or downgrade their package. The process can be done online at the official website or through authorized outlets.
Q5: Is Extra View available in all areas of Nigeria?
Most places in Nigeria have the ability to use Extra View. But it's a good idea to check with DStv or authorized dealers to see if it's available and possible in your area.
Conclusion
DStv Compact Plus is a great option for people and families who want a complete package of entertainment. With a wide range of channels, the ability to watch in high definition, and the Extra View option, subscribers can enjoy a personalized and immersive TV experience. Because of how much it costs and how many features it has, DStv Compact Plus is a popular choice among Nigerian viewers because it meets their many different entertainment needs.