DStv Decoder Price in Nigeria 2023 (Explora and HD)
One of the first things you often need to do before enjoying DStv services is to get a decoder, install it, and activate it. So what is DStv decoder price in Nigeria currently?
First, you need to know that there are currently two types of DStv decoders in Nigeria. The most common and cheapest one is the HD decoder while the expensive but also feature-rich one is the Explora decoder. I will explain what you need to know about these two decoders as well as their prices in Nigeria today.
DStv HD Decoder Price in Nigeria
The current price of a DStv HD decoder in Nigeria is NGN16,500 Naira. Alongside the decoder, you will also get a Dishkit, and 1 month Compact package subscription.
You can also ask the person you bought it from to help you with the installation which usually comes with a fee that ranges between N3,000 to N5,000 Naira. Making the total amount around N20,000 Naira at the maximum.
See Also: DStv Confam Price in Nigeria 2023 (With Extra View)
DStv HD Decoder Features
At the front of the HD decoder are buttons important in the day to day operations of the device. You might not use them daily or maybe at all because all these buttons are also available on the remote control.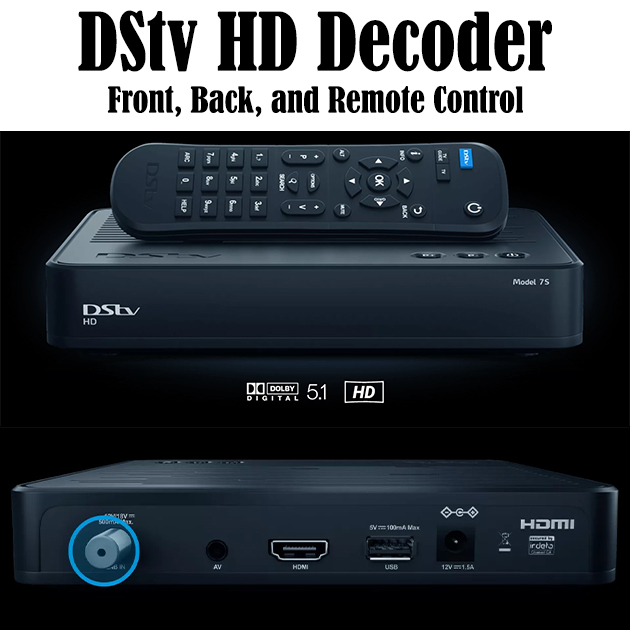 At the back are the LNB IN port that connects the dish to the decoder, the AV and HDMI ports that connect the Tv to the decoder, the Power IN port that brings in electricity to the device, and a USB port.
A few of the many features of the DStv HD decoder are;
XtraView allows you to add another decoder to your monthly subscriptions for an additional fee.
Tv Guide which provides you with about 8 days of information on what will be shown on each channel.
Reminders allow you to receive notifications about your favorite shows so you won't miss them.
Parental Control allows you to control what your children can watch or can't watch.
DStv Explora Decoder Price in Nigeria
The current price of the DStv Explora decoder in Nigeria is NGN116,000 Naira. Alongside the Explora decoder, you will also get the Dishkit, and Smart LNB. If you don't want the Dishkit maybe because you already have one, the price drops to NGN111,000 Naira.
Installation of an Explora bundle usually costs between N8,000 Naira to N10,000 Naira making the total amount about N85,000 Naira at the maximum.
You might also check out: DStv Compact Price in Nigeria 2023 (With Extra View)
DStv Explora Decoder Features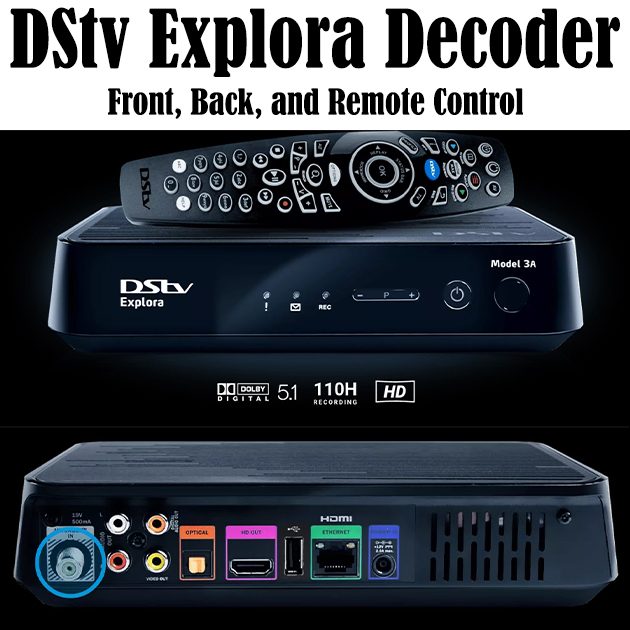 Explora is not just way more expensive than the HD decoder it also comes with a lot of benefits and features that the HD decoder can't compete with.
Among these are;
Everything the HD Decoder offers such as Parental Control, TV Guide, and Reminders
Recording Ability: You can record up to 110 hours of shows, movies, sports, series, etc. You can schedule a recording or record while you are watching another show. Just make sure that you are connected to the internet. This is part of the functionality referred to as PRV (Personal Video Recorder).
Other PVR Features: Other than recording a show, you can also fast forward, rewind, watch in slow motion, and pause a Live Tv show for up to 2 hours.
Internet Connection: You can connect to the internet with an Explora decoder and access DStv Catch Up Plus and streaming services such as Showmax and Netflix. Catch Up Plus allows you to watch everything you missed while away On Demand.
XtraView: Unlike the HD decoder that only allows you to connect only one decoder to your current subscription, the Explora decoder allows you to connect up to 3 decoders (Explora or HD or both).
BoxOffice: This allows you to rent the latest movies that are currently only available at the Cinema.
There are more ports at the back of the Explora decoder. It has all the ports on an HD decoder PLUS Audio Out (2 ports), Video Out, D.Video Out, Audio Optical, and Ethernet ports. Instead of LNB IN, it has Unicable IN.