DStv Confam Price in Nigeria 2023 (With Extra View)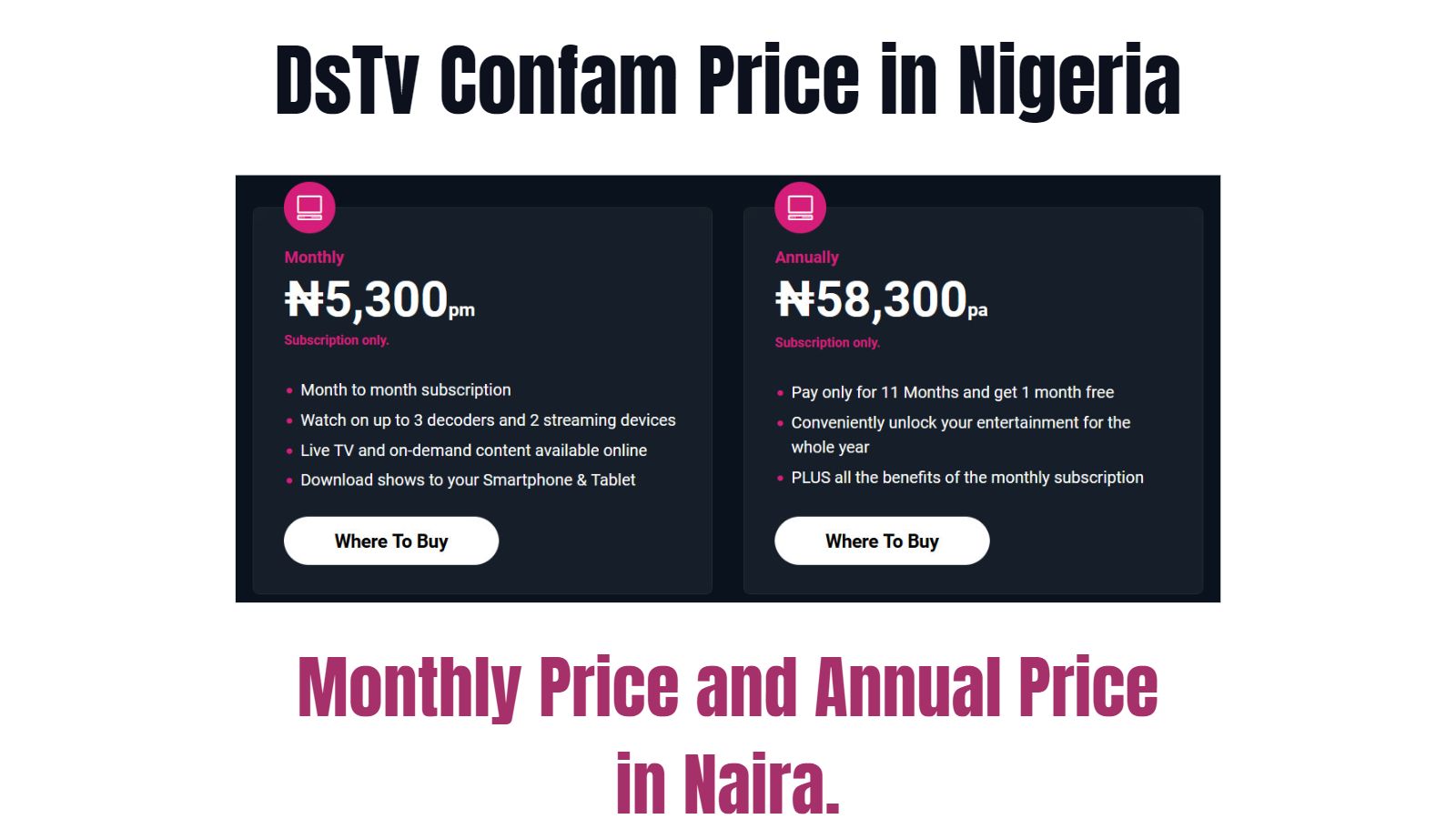 Understanding DStv Confam
DStv Confam is a comprehensive TV package that offers a wide range of entertainment options to its subscribers. It has a huge number of channels in many different categories, such as sports, movies, news, lifestyle, and more. DStv Confam is made so that viewers can watch what they want and have access to good content.
DStv Confam Package Details
Channel Selection: Subscribers to DStv Confam gain access to a plethora of channels that have been carefully curated to cater to a variety of interests. DStv Confam has something for everyone, whether you are a sports fan, a movie buff, or someone who enjoys lifestyle and fashion content.
Entertainment Options: The package includes popular channels such as Africa Magic, BET, Cartoon Network, SuperSport Blitz, and many more. These channels provide exciting shows, movies, and series to keep you entertained throughout the day.
Sports Coverage: DStv Confam provides comprehensive coverage of various sporting events for sports fans. You can watch live matches, analysis, and expert commentary from the comfort of your own home, whether it's football, basketball, cricket, or any other sport.
News and Documentaries: Stay up-to-date and entertained with the latest news and documentaries from CNN, BBC World News, National Geographic, and Discovery Channel. DStv Confam provides a platform for you to explore different points of view and learn about the world around you.
Lifestyle and Fashion: If you enjoy lifestyle and fashion content, DStv Confam provides channels such as E! Entertainment, Fashion One, Spice TV, and others. Stay updated with the latest fashion trends, celebrity news, and lifestyle shows that interest you.
DStv Confam Price in Nigeria
DStv Confam package monthly subscription in Nigeria is currently NGN6,200 Naira and NGN 68,200 per year. Confam subscriptions contain over 120 channels among which 11 are audio. The video channels include but not limited to Entertainment, Sports, Music, Religion, and Kids' stations.
I have also recently published an article that contains the complete list of DStv Confam channels in Nigeria for 2023. The page is also being maintained to keep fresh and reflect new changes.
How Much is DStv Confam Package with Extra View?
The price of DsTv confam package with extra view is NGN9,100.
DStv Confam in Nigeria = NGN 6,200 Naira
Extra View = NGN 2900 Naira
DStv Confam + Extra View = NGN 9,100 Naira.
Related: Price of DsTv Yanga Package in Nigeria
Conclusion
DStv Confam provides a comprehensive entertainment package that includes a wide variety of channels and content. The package caters to a wide range of interests, giving subscribers access to their favorite shows, sporting events, news, and more. You can improve your viewing experience and make the most of your subscription by selecting Extra View. Keep up-to-date on the latest pricing information and select the subscription plan that best suits your needs. Subscribe to DStv Confam to gain access to a world of entertainment.