How to Process PAAR in Nigeria | Terminal Africa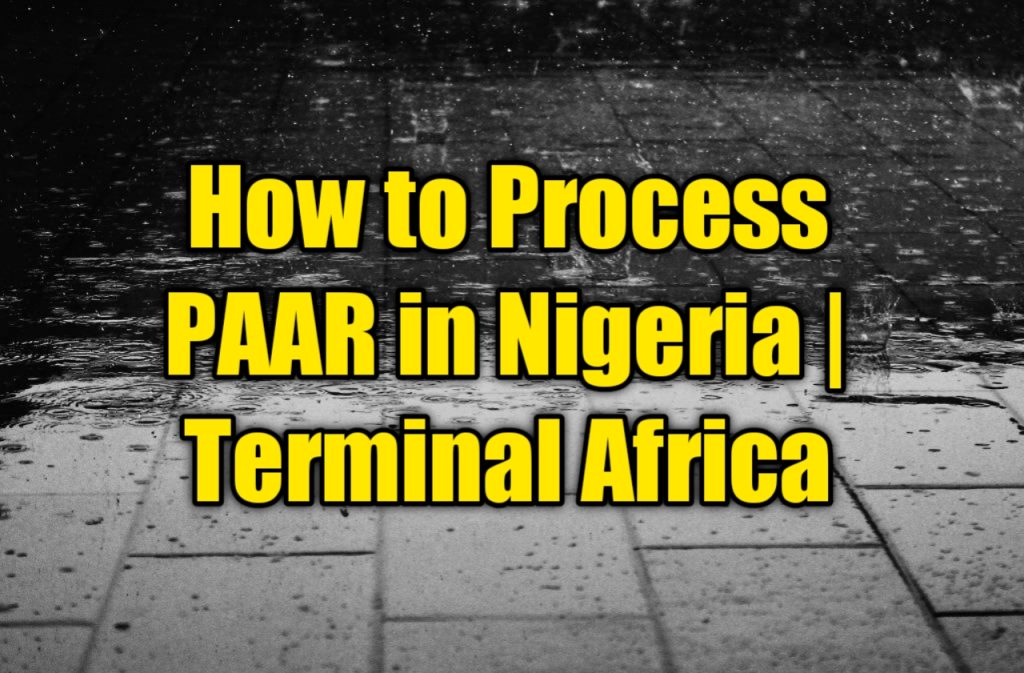 Importation of goods into Nigeria from other countries has been a major act that has aided inter-national relations but it isn't straightforward as it seems. To bring goods successfully into Nigeria, Importers and in most cases, the logistics companies–including Terminal Africa Inc.–need to present a document known as PAAR to the Nigeria Customs Service at the Port or Border.
Outlined below is all you need to know about processing PAAR.
What is PAAR?
PAAR, an acronym for Pre-Arrival Assessment Report is a key requirement of the Nigeria Customs Service for clearing or assessing accurately goods that are being imported to the country. It determines the rate of duty to be paid on imported items while showing the exchange rate at the time of the transaction.
What are the Documents Required to Process PAAR?
To process PAAR successfully, an independent importer or the logistics company needs quite some documents and they are;
1. Combined Certificate of Value & Origin
Also referred to as Form C16, it is a vital document required for Import Payment under a Federal Republic of Nigeria scheme known as Document Inspection (DI).The Document serves as a declaration of the imported goods, and an invoice, and can only be endorsed/signed by the Manufacturers or Exporters of the goods.
The CCVO contains the following details;
Port of Destination
E-Form Number
Shipment Identification, Date of Shipment, Country of Origin, and Country of Supply.
Accurate Description of Goods.
2. Original Bill of Lading
A Bill of lading is a document that goes with the freight, provides information about the shipment's cargo and transfers ownership of the shipment to the designated recipient party.
It specifies the kind, amount, and location of the goods being transported and is issued by a carrier (transportation business) to a shipper.
See Also: NDLEA Shortlisted Candidates 2023-2024: How to Check Your Name and Screening Center
3. SON CAP Certificate
A SONCAP certificate is an initiative of the Standards Organization of Nigeria and it is a legally required document to be presented by Importers/the shipper/logistics company–Terminal Africa Inc.–for their products to pass through Nigeria Customs Service clearing procedures and into the Nigerian Market.
4. Certificate of Analysis
This is a document issued by manufacturers to verify that the products conform to their customer's requirements and standards.
5. Manufacturer's Certificate of Origin
This certificate is a document that certifies the Country of Origin of items being imported to Nigeria. However, this document doesn't apply to every imported goods.
6. Packing List
A Packing List is a well-detailed document that itemizes the contents of each package to be imported.It includes measurements, weights, and a list of goods in each package.
7. Final Invoice
A Final invoice is a document that is conveyed to the buyer after shipping or delivering their products. It is used by Customs for commodity control and valuation.
Having the Documents above makes clearing of goods at ports less stressful for Importers who aim to bring goods into the Nigerian Domestic Market.
Conclusion
Getting a PAAR in Nigeria can prove to be quite a difficult process, but with the right information and shipping company, you are well on your way to a stress-free process. At Terminal Africa, we offer you timely and accurate information about the process. We also cover all your shipping needs at affordable rates.