GOtv Jolli Price in Nigeria 2023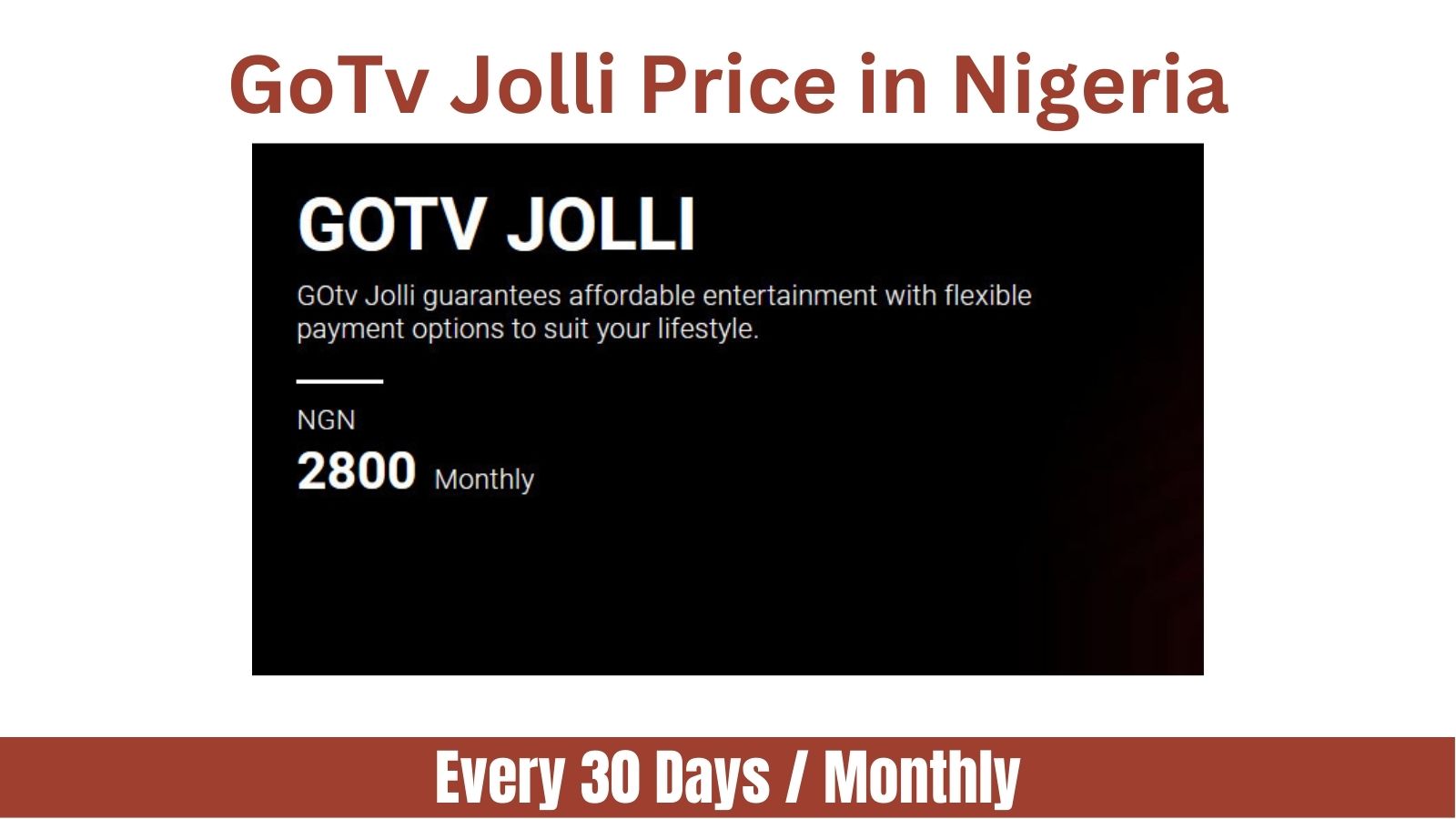 I. Introduction
GOtv, a popular digital terrestrial television service, has gained significant traction in Nigeria due to its low pricing and diverse channel offerings. The Jolli package, which provides a wide range of entertainment, news, sports, and educational content, is one of GOtv's most popular packages. In this article, we will look at the GOtv Jolli price in Nigeria, its benefits, and how to subscribe to this exciting package.
II. Understanding GOtv Jolli Package
The GOtv Jolli package is designed to satisfy the demands of Nigerian viewers who want a large number of channels without breaking the bank. This package includes a wide variety of local and international content, such as popular TV shows, movies, sporting events, newscasts, and educational programs. Subscribers to GOtv Jolli can enjoy a wide range of channels covering a variety of genres, ensuring that there is something for everyone in the family.
When compared to other GOtv packages, Jolli stands out for its exceptional value for money. It strikes an ideal balance between affordability and content diversity, making it a popular choice among many Nigerian households. Whether you are a sports fan, a movie buff, or someone looking for informative and entertaining programming, the GOtv Jolli package has you covered.
See Also: GOtv Smallie Channels List in Nigeria 2023
III. GOtv Jolli Price in Nigeria
In Nigeria, the GOtv Jolli package is currently priced at NGN3,300 per month. This price is subject to change, so for the most up-to-date pricing information, visit the official GOtv website or contact authorized GOtv dealers. Furthermore, GOtv runs promotions and discounts on a regular basis, allowing subscribers to enjoy the Jolli package at even lower prices. You will immediately have access to almost 70 channels (both video and audio) which ranges from sports, and music, to entertainment, and more.
In order to meet the various demands of its customers, GOtv offers several different subscription options. There are a variety of subscription durations available to subscribers, including monthly, quarterly, and annual plans. With these flexible subscription plans, viewers can watch their favorite shows without interruption or having to worry about constantly renewing their subscription.
IV. How to Subscribe to GOtv Jolli Package
Subscribing to the GOtv Jolli package is a straightforward process. Here is a step-by-step guide to help you get started:
Step 1: Check coverage and availability: Check to see if GOtv Jolli coverage is available in your area by visiting the official GOtv website or contacting a nearby GOtv dealer.
Step 2: Purchase a GOtv Decoder: If you don't have one yet, you'll need to get one. GOtv decoders are available from authorized dealers at varying prices.
Step 3: Activate Your Decoder: Once you've purchased the decoder, follow the activation instructions that came with it. You must enter your personal information as well as the decoder's unique identifier (ICU).
Step 4: Choose a Subscription Plan: Choose the Jolli package and the subscription duration on the GOtv website or app. You can also subscribe through approved dealers or mobile money agencies.
Step 5: Make a Payment: Pay for your chosen subscription plan using one of the available payment methods, such as bank transfers, mobile money, or recharge cards.
Step 6: Enjoy GOtv Jolli: Once your payment is confirmed, your GOtv Jolli subscription will be turned on, and you can start watching the different channels and content it has to offer.
If you have any problems during the subscription process, GOtv offers customer support to help you. Their helpline and online platforms are always open to address any concerns and provide troubleshooting assistance.
Related: GoTv Jinja Price in Nigeria
V. Value for Money with GOtv Jolli
The GOtv Jolli package provides excellent value for money to Nigerian viewers. Subscribers benefit from an extensive selection of channels spanning multiple genres at an affordable price. Jolli ensures that there is always something entertaining to watch, from thrilling sporting events to the most recent movies and captivating TV series.
Sports fans can root for their favorite teams by watching local and international sporting events on dedicated sports channels. Movie fans can enjoy a diverse selection of films, ranging from Nollywood productions to Hollywood blockbusters. Educational programs and informative documentaries are also included in the package, catering to viewers' curiosity and thirst for knowledge.
In addition to its extensive content, GOtv Jolli offers a variety of tools to enhance the viewing experience. They include interactive features, parental control, program reminders, and electronic program guides (EPGs) to help users simply navigate through the available channels and schedules. Such features add to a user-friendly and entertaining television experience for subscribers.
VI. Benefits of GOtv Jolli for Nigerian Viewers
Benefits of GOtv Jolli for Nigerian Viewers
Affordability and cost-effectiveness: The Jolli package offers a large range of channels at a low cost, making it appropriate for viewers with varied budgets.
Availability of Local and International Content: GOtv Jolli combines local Nigerian channels with worldwide networks, delivering a diverse viewing experience that caters to a wide range of interests and preferences.
Accessibility in Remote Areas: Because GOtv Jolli is a digital terrestrial television service, it is available in both urban and rural areas, including areas with low internet connectivity. This expands the availability of high-quality entertainment in Nigeria.
By giving viewers a wide range of content, GOtv Jolli aims to keep them entertained, educated, and engaged while giving them a great deal for their money.
VII. Frequently Asked Questions (FAQs)
Q1. What channels are included in the GOtv Jolli package?
GOtv Jolli has a wide range of channels, including local Nigerian stations, international news networks, sports channels, entertainment networks, and educational programs. The specific channels may change, so it's best to check the official GOtv website for the most up-to-date list of channels.
Q2. Can I upgrade or downgrade my GOtv subscription?
Yes, GOtv subscribers can upgrade or downgrade their subscription packages. You can change your subscription by contacting customer service or going to a GOtv authorized dealer.
Q3. How can I check my GOtv subscription balance?
To check your GOtv subscription balance, send an SMS to the designated GOtv shortcode with the word "BAL" followed by your IUC number. You will receive an email with your account information, including the remaining subscription balance.
Q4. What should I do if I encounter signal issues?
If you're having signal problems, make sure your GOtv antenna is properly installed and positioned. Check the cables and connections for any damage or loose connections. If the issue persists, you can seek assistance from GOtv customer service.
Q5. Is there a free trial available for GOtv Jolli?
GOtv currently does not provide a free trial for the Jolli package. They do, however, offer promotional offers and discounts on occasion, allowing new subscribers to enjoy discounted rates or additional benefits. Keep an eye out for any ongoing promotions on their official website and social media channels.
VIII. Conclusion
GOtv Jolli has grown in popularity among Nigerians looking for an affordable and feature-rich television experience. The Jolli package offers excellent value for money thanks to its diverse channel offerings, low pricing, and flexible subscription options. Whether you like sports, movies, news, or educational programs, GOtv Jolli has something to keep you entertained and informed. So, why bother? Subscribe to GOtv Jolli today to improve your TV viewing experience!
I have published an article that contains the full list of channels on GOtv Jolli in Nigeria. Do well to check them out.