Dubai Visa for Nigerians: How much is Dubai Visa?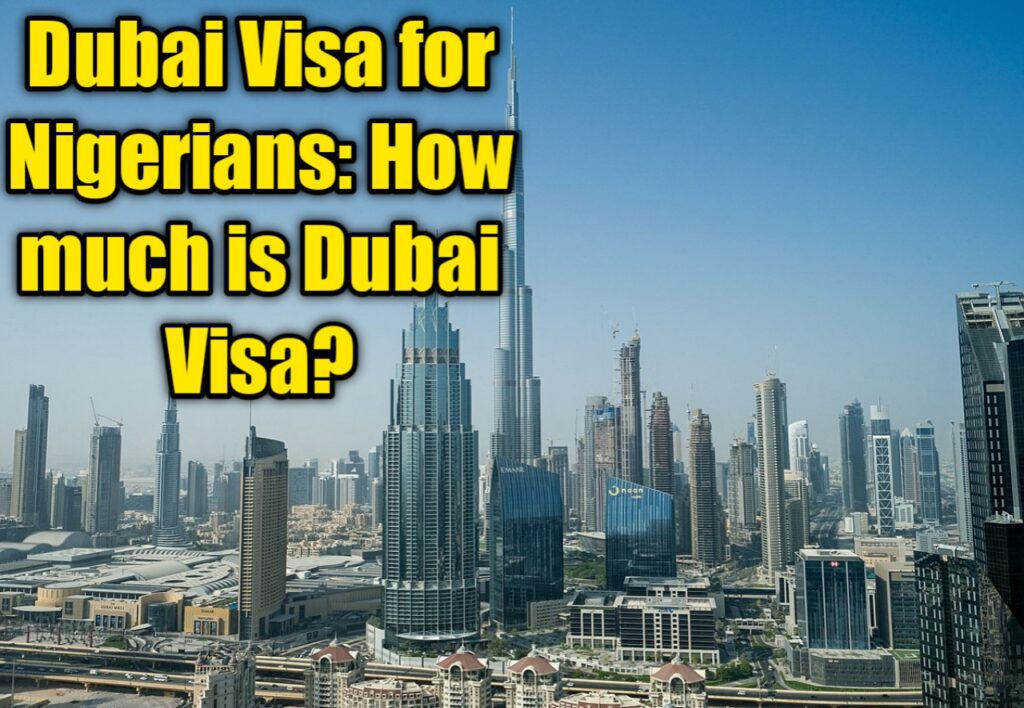 Dubai is a popular tourist, business, and leisure destination for Nigerians. However, before traveling to Dubai, Nigerians should be aware of the visa procedures and associated charges. In this post, we'll go through the various types of Dubai visas available to Nigerians as well as answer the question, "How much is a Dubai visa?"
1. Introduction
For the majority of travelers, a valid visa is required to enter Dubai from Nigeria. Obtaining a visa is a crucial stage in the process of travel planning. Whether you're visiting for business, tourism, or transit, you must have the proper visa to avoid immigration-related problems during your stay.
2. Types of Dubai visas for Nigerians
A. Tourist visa
If you want to go to Dubai for fun things like shopping or visiting friends and family, you will need a tourist visa. Tourist visas are usually valid for 30 days, giving visitors plenty of time to see the city's attractions.
B. Transit visa
Travelers who need to go through Dubai to get to their end destination must get a transit visa. With this type of visa, you can stay in Dubai for 48 to 96 hours, based on your airline and itinerary.
C. Business visa
Business people from Nigeria who want to go to Dubai for conferences, meetings, or to look for business opportunities will need a business visa. This visa lets you stay longer and is made especially for people who are doing business-related things.
3. Cost of Dubai visa for Nigerians
The cost of a Dubai visa for Nigerians varies based on visa type and duration. To effectively plan your travel budget, you must first become acquainted with the fees.
A. Tourist visa fees
Tourist visa fees for Nigerians normally range from $80 to $150, depending on the duration of stay and processing options. It is best to check with the Dubai consulate or embassy for the most up-to-date information on visa fees.
B. Transit visa fees
A transit visa is often less expensive for Nigerians than a tourist or business visa. The cost of a transit visa ranges from $30 to $60, depending on the term and specific conditions.
C. Business visa fees
Nigerian business visa fees vary depending on the duration and type of business activities. Depending on the duration of stay and the visa processing options chosen, the fees could range from $100 to $300.
See Also: How much is UK Visa Fee in Nigeria 2023?
4. Application process for Dubai visa
Nigerians must go through a simple application process to get a visa for Dubai. To avoid delays or rejections, it's important to read the instructions carefully and send in all the papers asked for.
A. Required documents
A valid passport, photographs in the appropriate size for passports, a visa application form that has been filled out, a flight schedule, hotel bookings, and evidence that you have adequate finances to cover your stay in Dubai are the standard documents that are required to apply for a visa to enter Dubai.
B. Online application
Through the official visa application portal, the majority of Dubai visa applications can be submitted and processed online. Before sending in the application, it is important to check everything again and make sure that all of the details have been provided accurately.
C. Visa processing time
The amount of time required to process a visa for Dubai can range anywhere from a few days to a couple of weeks, depending on the type of visa and the amount of work being done at the consulate or embassy. It is in your best interest to submit your application a significant amount of time before the dates you intend to travel in order to avoid any issues that may arise at the last minute.
5. Additional fees and expenses
In addition to the fees required for the visa, visitors from Nigeria who are going to Dubai need to think about other costs related to their trip.
A. Medical insurance
When traveling to Dubai, having travel medical insurance is not required; however, it is highly recommended to do so. It is important to have insurance coverage in case of a medical emergency since it provides both peace of mind and financial security.
B. Flight tickets
The cost of airline tickets to Dubai from Nigeria can change based on which airline you fly with, the time of year, and how far in advance you purchase your tickets. It is in your best interest to look around at different prices and make your reservation ahead of time to ensure you get the best deal possible.
C. Accommodation
Dubai has a wide choice of hotel alternatives to suit all budgets. Whether you choose a luxury hotel or a more budget-friendly one, accommodation costs must be considered while arranging your vacation.
Popular for you: How much is UK Visa Fee in Nigeria 2023?
6. Tips for a successful Dubai visa application
To increase the chances of a successful Dubai visa application, consider the following tips:
A. Provide accurate information
Ensure that all of the information in your visa application is correct and corresponds to the supporting documents you submit. Inaccurate information can cause delays or denials.
B. Submit all required documents
Check the list of required documents and make sure you submit them all with your visa application. Documents that are missing can cause delays or denials.
C. Apply in advance
Apply for your Dubai visa well ahead of your intended travel dates. This enables processing as well as any necessary follow-up procedures from the consulate or embassy.
7. Conclusion
Obtaining a Dubai visa for Nigerians is a must for anyone planning a trip to Dubai. The price of a Dubai visa varies depending on the kind of visa and the duration of stay. To effectively plan your travel budget, you must be familiar with the visa requirements and associated fees.
8. Frequently Asked Questions (FAQs)
Q1. Can Nigerians get a visa on arrival in Dubai?
No, Nigerian citizens cannot obtain a visa on arrival in Dubai. Before traveling, a valid visa must be obtained.
Q2. Can I extend my Dubai visa if I need to stay longer?
It is possible to extend your Dubai visa under certain conditions. However, it is recommended that you check with the right authorities or speak with a visa processing service for help.
Q3. How long does it take to process a Dubai visa for Nigerians?
The processing time frame for a Dubai visa can vary. It is best to apply far in advance of your scheduled travel dates to account for any potential delays.
Q4. Can I work in Dubai with a tourist visa?
No, you cannot work in Dubai on a tourist visa. If you intend to work in Dubai, you must first obtain the necessary work visa or permit.
Q5. Is a Dubai visa guaranteed for Nigerians?
No, the issuing of a Dubai visa is subject to approval by the relevant authorities. Meeting the visa requirements and giving accurate information raises the chances of approval, but it is not guaranteed.
Before you start making plans for your trip, don't forget to get in touch with the Dubai consulate or embassy to find out the most recent visa requirements and costs.